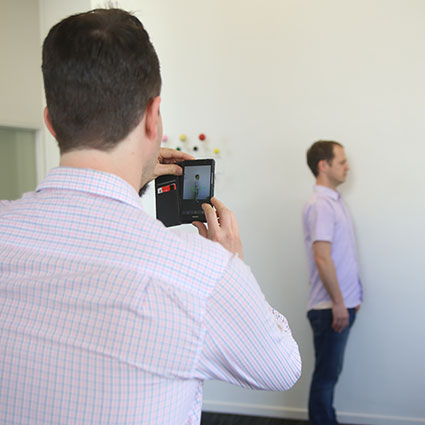 Posture in Hamilton
From sitting at their workstation with hunched shoulders to glancing down at their digital device for an extended period, it's no wonder that so many people have poor posture.
How Poor Posture Impacts the Body
Did you know that poor posture can create muscle balances in the body? You also can experience an acceleration of wear and tear on your spine, making you more susceptible to injury. Other issues that can arise from poor posture include decreased flexibility in the body, impaired breathing, and an increased risk of neck, shoulder and back pain.
NEW PATIENTS »

Proper Posture Is Our Passion
Good posture is an area we are particularly passionate about here at Aspire Chiropractic Hamilton. We have completed additional training in chiropractic postural correction techniques. Additionally, we take posture photos to track your postural improvements while getting chiropractic care.
If you feel uncomfortable when trying to sit straight or cannot maintain good posture for any length of time, then we may be able to help you. By adopting proper posture, you can feel better when working at the office; good posture helps with energy and proper breathing.
With so many young people looking down on their cell phones or tablets, we also see lots of kids with poor posture. We help many younger clients who have concerns about their posture due to technology use and 'do not want posture like their parents'. We recommend specific postural exercises to our clients as well.
Potential Health Benefits of Good Posture
While good posture is attractive, it also can help to improve your overall health and wellbeing. It's a good idea to be mindful of your posture and make necessary corrections. When you achieve and maintain proper posture you may experience various health benefits.
Proper posture could help to:
Keep your joints and bones properly aligned
Ensure muscles are being used efficiently
Reduce stress on the spinal ligaments
Prevent muscle fatigue
Minimize the risk of sprain and strain injuries
Minimize back pain

Posture Hamilton, Hamilton East, Hamilton Central, Whatawhata, Rotokauri | (07) 834 2985